Standing Out in a Busy Travel Season with DOOH Retargeting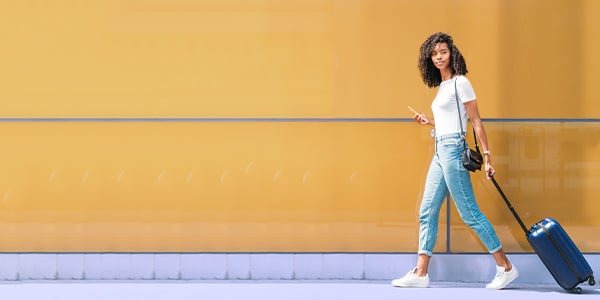 After the outbreak of Covid-19 and subsequent lockdowns in the United States, almost every business adapted to the 'new normal.' The transition was not easy, and two-plus years later, many companies are still working to recover. One of the most impacted sectors was — and remains — travel and tourism.
Yet, with vaccine and booster rollouts, along with loosened travel restrictions, the tourism industry is booming as populations are eager to again enjoy summer vacations, destination weddings and the simple joy of getting away.
Data supports consumer enthusiasm for travel. Personal vacationers will spend 28% more on their getaways this year compared to 2019, according to the U.S. Travel Association.  
This surge in travel after over two years of the downturn is not lost on marketers. And now, advertisers have a slew of new technology at their disposal, including the popular digital-out-of-home (DOOH) retargeting feature within Adelphic.
Reaching Travelers with DOOH Retargeting
Picture this: you're exiting the plane in Myrtle Beach, South Carolina, and while you're waiting for your luggage in the terminal, you see DOOH ads for Tybee Island in Georgia, Nassau in the Bahamas and Daufuskie Island, another sand-filled South Carolina vacation hotspot. These convention and visitors bureau (CVB) ads have become mainstays of any travel experience and are a great way for marketers to catch the eye of travelers who already may be planning their next trip.
But now, advertisers can take their DOOH investments one step further.
Using the DOOH retargeting feature in Adelphic, brands can reach individuals passing by their DOOH placements and then retarget them after they leave the terminal. This technique works, whether on mobile, desktop, tablet or any other connected device, thanks to the Viant Household ID (VHHID).
(As a quick reminder: the VHHID empowers marketers to move beyond the individual-level targeting of third-party cookies and reach real people across each of their devices, including in cookieless ad channels such as connected TV (CTV), DOOH, digital audio and more.)
Standing Out with a Sophisticated Campaign
When it comes to competing for the attention of travelers, CVBs are just one of many players. Hotel chains, restaurants, amusement parks — the tourism industry is a big tent. With that in mind, brands in the sector need a sophisticated omnichannel strategy that allows more flexibility to engage with larger audiences and, after initial ad exposure, the ability to continue reaching these consumers across their devices, whether at home or out exploring the world.
But how?
Consider you run a hotel chain in South Carolina and are strategizing tactics so that your latest campaign captures the attention of travelers waiting for their luggage in the airport terminal. Relying on the DOOH retargeting feature, brands can create a full-funnel campaign to reach target audiences across each device after exposure to the initial DOOH ad.
For example, an upper-funnel approach with the goal of brand awareness and positioning could be the airport terminal DOOH ads (or a CTV spot) highlighting high-speed internet available in the rooms, fine dining on the menu in the hotel restaurant and/or proximity to nearby attractions.
A mid-funnel approach would move consumers closer to conversion by utilizing Adelphic's display lookalikes (LALs) feature to reach target audiences on competitor hotel sites.
Finally, a lower-funnel approach with the goal of conversions and generating leads could be reaching anyone searching for a last-minute hotel, individuals within a 1-mile radius or previous guests with site retargeting on their mobile device, tablet or desktop computer.
Tracking Conversions in a Cookieless World
Marketers reading this might be wondering: At the end of the funnel, how does all this work? How can we tell each of these tactics played a role in the consumer journey and, ultimately, led to conversion?
Using built-in cross-device conversion tracking, which allows marketers to connect with consumers in the household or even when they're away home, Adelphic can validate the success of each ad in the funnel by showing device-level impressions and the channels users engaged with the most. Also, by leveraging the VHHID, brands can see how DOOH, CTV and other offline (or cookieless) channels impact conversions.
Marketers can access these campaign insights within Viant's Advanced Reporting suite under the hood of Adelphic.
A popular choice we've seen in the tourism sector is the Conversion Lift report, available as an add-on in Adelphic.* This report leverages ghost bid technology to help marketers understand the impact of their online and offline media on driving conversions. So, rather than guessing that because a traveler saw your DOOH hotel ad (or CTV ad, for that matter) followed by device retargeting and then booked a room, the Conversion Lift report pinpoints exactly where a consumer first saw your campaign and the pathway they took to conversion.
As travelers again embark on vacations — and digital advertising evolves beyond third-party cookies into the New Open Web — almost every player in tourism (and other sectors!) can take advantage of cutting-edge technology to push their advertising one step further.
*See if you qualify for the Conversion Lift report here. 
STAY IN THE LOOP WITH OUR NEWSLETTER
Sign up to get Viant news and announcements delivered straight to your inbox.
Sign up to get Viant news and announcements delivered straight to your inbox.