Viant and Adweek Survey Reveals Consumer Advertising Sentiment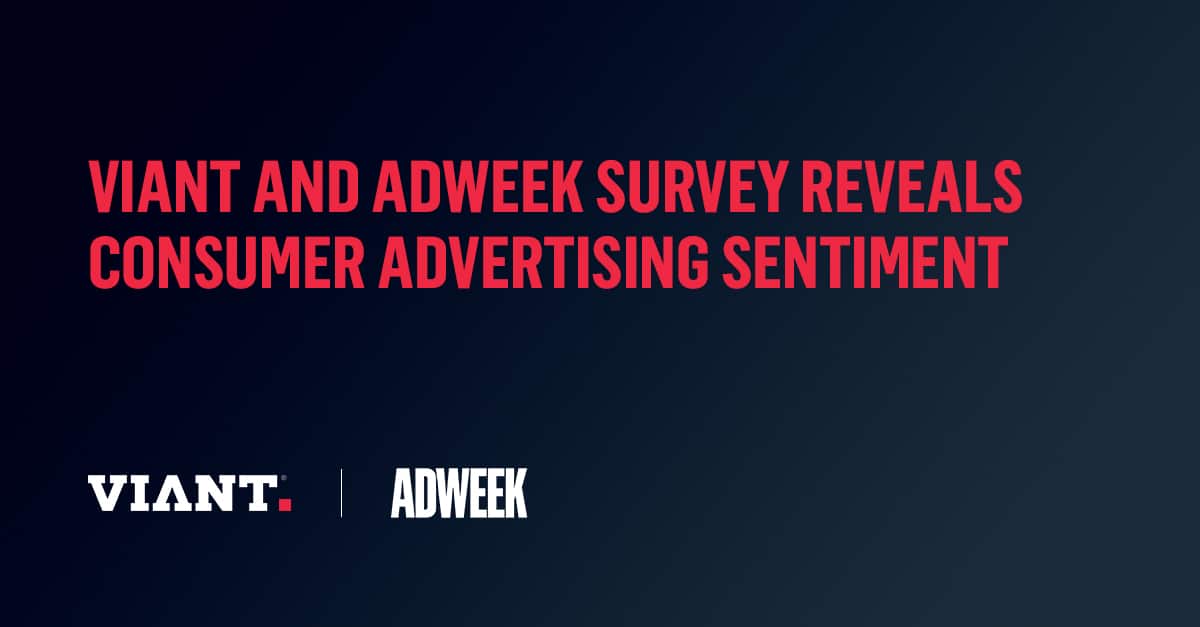 IRVINE, Calif.–Viant Technology Inc. (NASDAQ: DSP), a leading people-based advertising software company, and Adweek, the leading source of news and insight serving the brand marketing ecosystem, today announced the results of a joint survey that examined consumer attitudes towards digital advertising. The exclusive survey, titled, "Can The Digital Ad Experience Be Saved?" is of more than 500 domestic consumers and revealed perceptions of digital advertising experiences, overall attitudes toward personalization, how they feel about the "value exchange" for personal information, and what consumers are willing to share to get the best possible ad experience.
The survey was conducted in concert with preparations around Adweek's upcoming event presented by Viant: "What Consumers Want: How to Create Better Customer Experiences with Programmatic," where the below findings, among others, will be discussed in depth on December 8, 2021, at 1:00 pm ET. To register for the event and save your virtual seat click here.
Key findings from the survey uncovered that:
Household relevancy is more important than ever: 63% say they pay more attention to ads when they are personalized to the needs of their households. The top categories for household targeting are CPG/grocery (preferred by 83% of consumers), travel (63%), autos (60%).
TV is the channel that influences purchase behavior: 55% of consumers say an ad on TV or streaming TV led them to discover a new product for their household.
Advertising exhaustion is real: 73% of consumers say they see too many ads and 78% are annoyed when brands over message them.
The best digital ad experiences start with relevancy: Asked to rate various ad experiences, 66% said they like personalization for the needs of their households, and 65% like personalization for their individual needs.
Focus on convenience: With consumers more concerned about privacy and identity, there must be a fair value exchange from advertisers for first-party data, and what consumers want is convenience in the form of free shipping (38%) and loyalty programs (37%).
About Viant
Viant® is a leading people-based advertising software company that enables marketers and their agencies to centralize the planning, buying and measurement of their advertising investments across most channels. Viant's self-service Demand Side Platform (DSP), Adelphic®, is an enterprise software platform enabling marketers to execute programmatic advertising campaigns across Connected TV, Linear TV, mobile, desktop, audio and digital out-of-home channels. Viant's Identity Resolution capabilities have linked 115 million U.S. households to more than 1 billion connected devices and is combined with access to more than 280,000 audience attributes from more than 70 people-based data partners. Viant is an Advertising Age 2021 Best Places to Work award winner and Adelphic is featured on AdExchanger's 2021 Programmatic Power Players list. To learn more, visit viantinc.com and adelphic.com or follow us on Facebook, Twitter, Instagram, LinkedIn, and YouTube.
About Adweek
Adweek is the leading source of news and insight serving the brand marketing ecosystem. First published in 1979, Adweek's award-winning coverage reaches an engaged audience of more than 6 million professionals across platforms including print, digital, events, podcasts, newsletters, social media, and mobile apps. As a touchstone of the advertising and marketing community, Adweek is an unparalleled resource for leaders across multiple industries who rely on its content to help them do their jobs better.
Contacts
Media Contact:
Karen Castillo-Paff
kpaff@viantinc.com
STAY IN THE LOOP WITH OUR NEWSLETTER
Sign up to get Viant news and announcements delivered straight to your inbox.
Sign up to get Viant news and announcements delivered straight to your inbox.