Adelphic Inks First-to-Market Integration with Clinch Enabling New Shoppable Video Ad Solutions For Brands As Ecommerce Sales Rise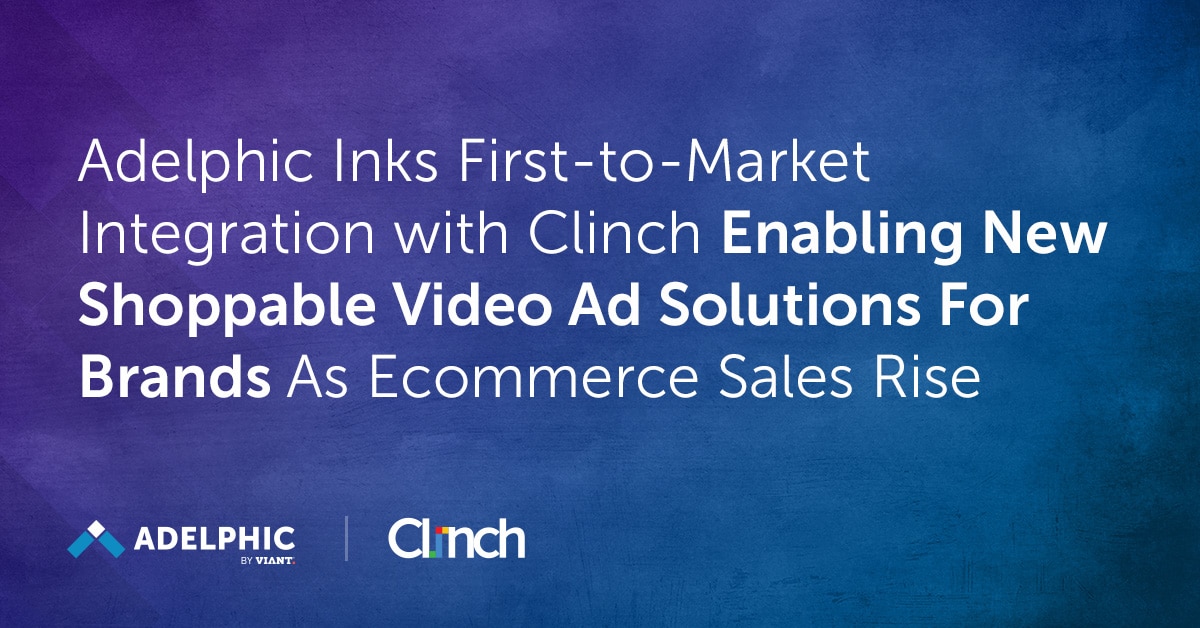 (Irvine, CA, December 16, 2020) – Adelphic®, a Viant people-based DSP for omnichannel advertising, today announced that it has inked a new integration with Clinch, the Personalization Everywhere company that provides cross-channel dynamic creative optimization (DCO) technology, to deliver new shoppable video ad solutions for brands across its platform.
As part of the agreement, marketers can now leverage Clinch's DCO, shoppable video ad solutions combined with the power of Viant's Total Graph, a robust first-party data infrastructure for omni-channel campaigns, personalized messaging and more through the Adelphic software.
"As the future of cookie tracking diminishes, we're thrilled to deliver new identity-based solutions that enable brands to increase engagement and drive business results," said Jon Schulz, CMO, Viant. "Our integration with Clinch will directly support the demands of eCommerce marketers across retail, direct-to-consumer and more, who are seeking unique and powerful data-driven, omni-channel ad solutions that break through and deliver on campaign goals."
"We've seen a lot of success with several of our large adverisers who are currently leveraging our new shoppable video solution," said Oz Etzioni, CEO, Clinch. "By integrating with Adelphic, we are looking forward to harnessing the powerful combination of data and video to unlock new opportunities and possibilities for marketers that were previously untapped."
With time and operational efficiencies being so critical to businesses now more than ever, the Adelphic and Clinch integration will also provide an alternative to the previously operationaly heavy workloads that come with multi-creative versioning.
Adelphic and Clinch are also both featured on AdExchanger's 2020 Programmatic Power Player's List.
About Viant
Viant® is a leading people-based advertising software company that enables ad buyers to plan, create, execute, and measure their omnichannel digital advertising investments. Its self-service DSP for omnichannel advertising, Adelphic®, provides the ability to execute programmatic advertising campaigns across TV, mobile, desktop, audio, digital out-of-home, and is the only DSP with IPv6 support for CTV environments. Viant's proprietary, first-party data is linked to 115 million households, over 1 billion connected devices, and is combined with access to more than 12,000 audience attributes to enable scaled and accurate audience targeting and attribution. Viant is an Inc. Best Places to Work award winner and Adelphic is featured on AdExchanger's Programmatic Power Players list. To learn more, visit viantinc.com and adelphic.com or follow us on Facebook, Twitter, Instagram, LinkedIn, and YouTube.
STAY IN THE LOOP WITH OUR NEWSLETTER
Sign up to get Viant news and announcements delivered straight to your inbox.
Sign up to get Viant news and announcements delivered straight to your inbox.